Celica wig and pony tail clip ons from Zephyr came in the mail from Japan yesterday. I ordered late monday, it was shipped out tuesday, at my door when I woke up thursday. I love my speedy Japanese wig services.
This was my first time ordering non-heat resistant type wigs from zephyr. I wasn't disappointed~ the fiber is non-tangly and super-smooth. I was a little anxious about how I'd look in purple, but it was a really nice non-clashing shade. the sheen is peculiar but rather pretty. I like it.
Sadly, in between Japan and America, it seems like one of the clipons had broken in transit. D: SO I decided to engage in a little surgery to extract and replace it, and I took pictures along the way since I'd never seen a guide to the process (in case any one else ever needs to make their own clipon ponytails, or needs to replace a clip).
here is what a healthy non-broken clipon looks like....actually my broken one looked like this too. but anyway.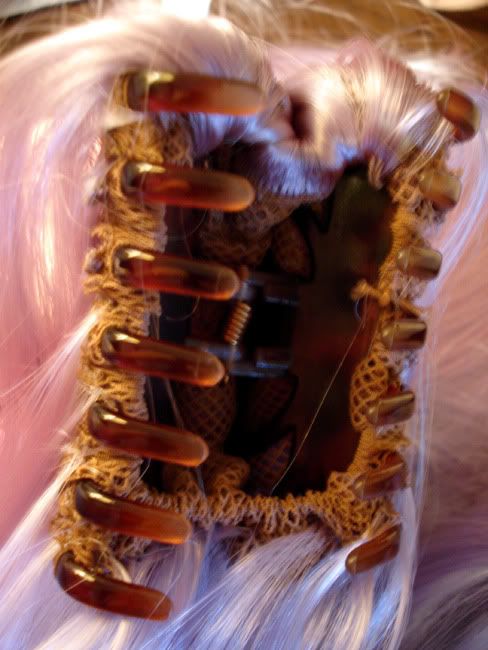 the wig netting is pretty much just shoved through the jaws of the claw clip (making it look like a terrifying carnivorous vagina), so that you can just clip it on the wig and go. however with one of the clipons, the handle part of the clipon couldn't be squeezed to open it.
so I cautiously pulled the wig netting out of the claw clip and extracted it from the wig fiber.
now it looks like a more normal vagina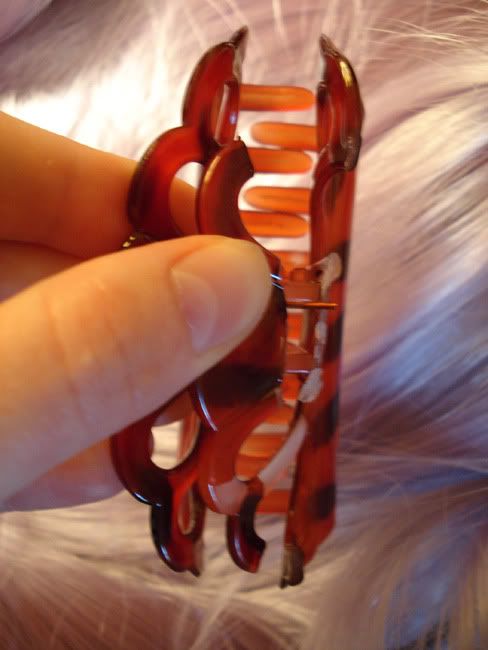 okay, that would explain why it wasn't opening.
there was no way I'd be able to re-wrangle another clip back in, since the fit was too tight, and trying to keep a claw clip open while forcing both sides proved to be pretty much impossible. so it was time to take it apart!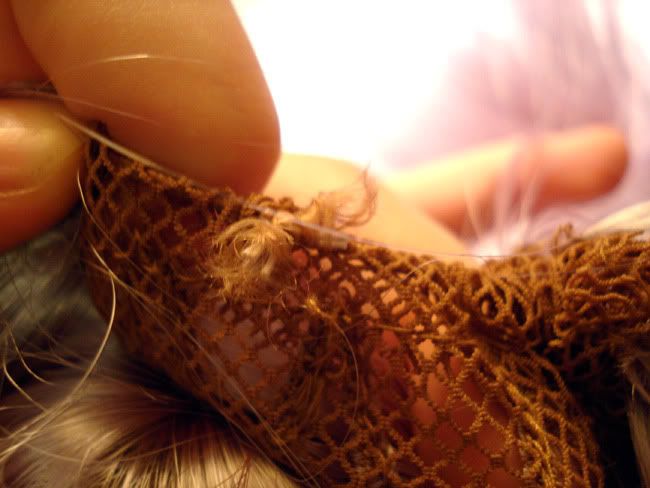 the first step was to figure out how the ponytail fibers were held on to the clip. as it turns out, there is a small elastic cord running through the perimeter that holds it together. one little snip, and...
bam, it's a flat rectangle of wefts. if you were interested in making your own clip on ponytails, this is the base you'd need to make.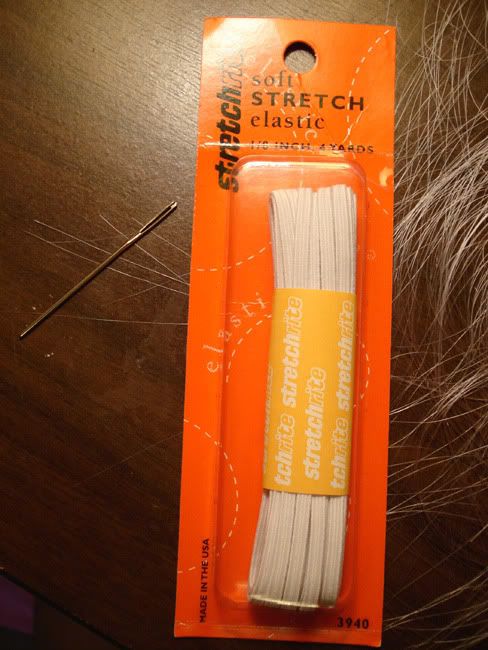 at this point I sifted through my sewing collection to find the tools I needed to reconstruct it: a tapestry (blunt) needle, and a bit of elastic.
I then threaded the elastic through where the old elastic had been--there was a little tube of netting sewn in place for it to rest in.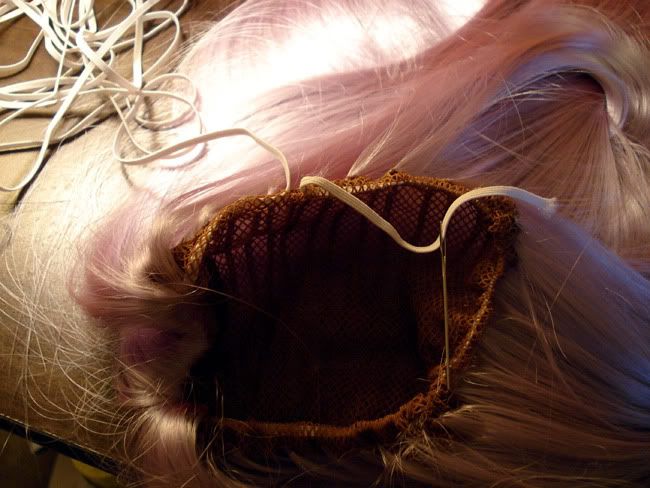 all the way through~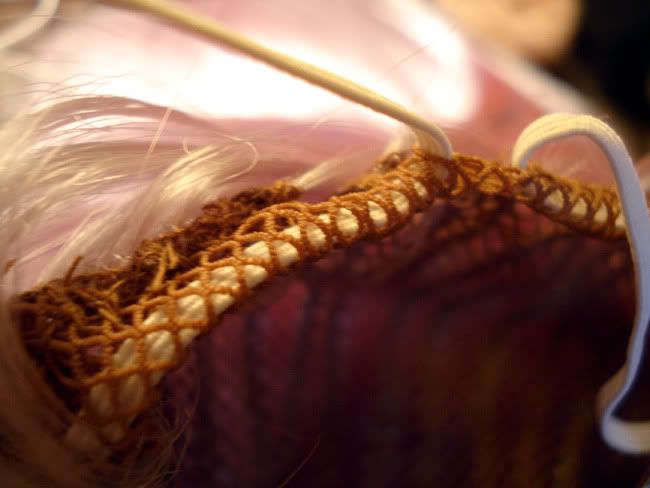 closeup of the elastic/tube casing.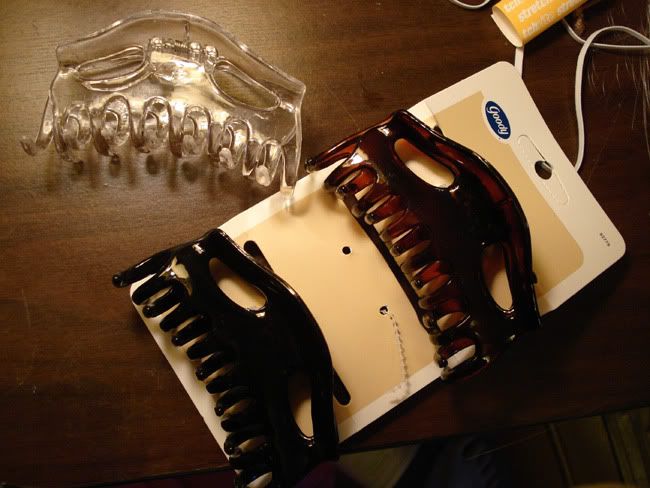 earlier I'd run to walmart to get these.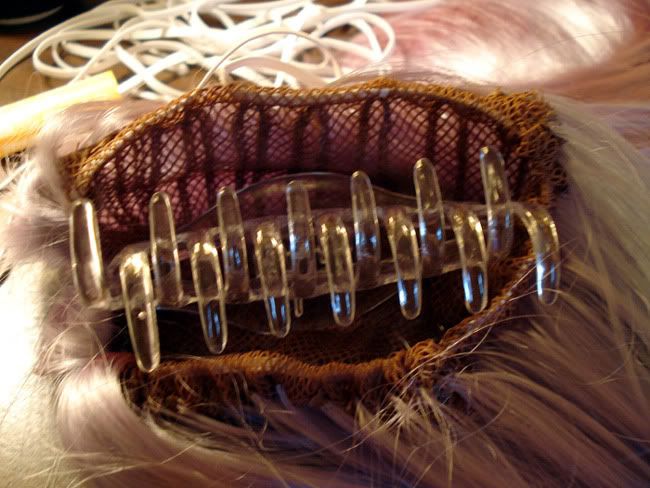 checked the size....yup, seems to fit okay.
hooking one side of the clip into the netting~ since there's a lot of "ease", be sure to arrange the extra parts as you like. (putting more on the top or more on the side will result in a slightly different look, so be sure both of your pigtails have similar placements!)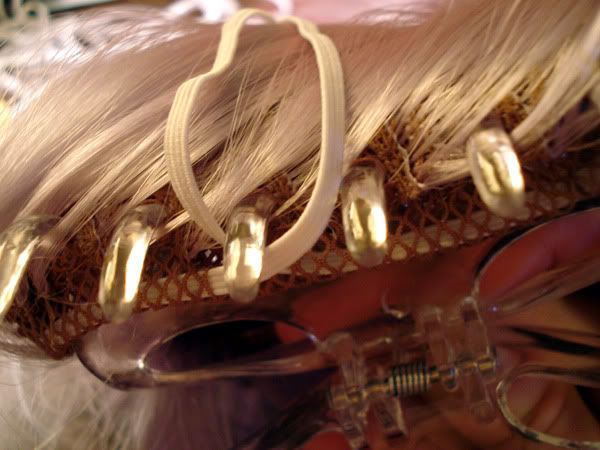 leaving the elastic untied for now.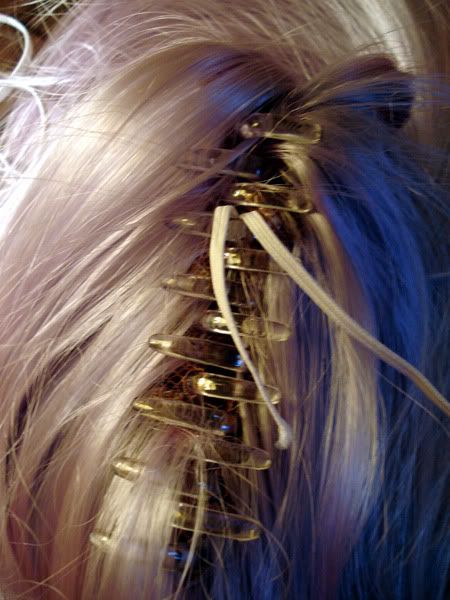 after wrangling the other side into it (sorry, no pictures as it took both hands), it closed on itself. looking a little bit more back to normal! still needed to tie off the elastic tight enough to permanently secure it in place, though.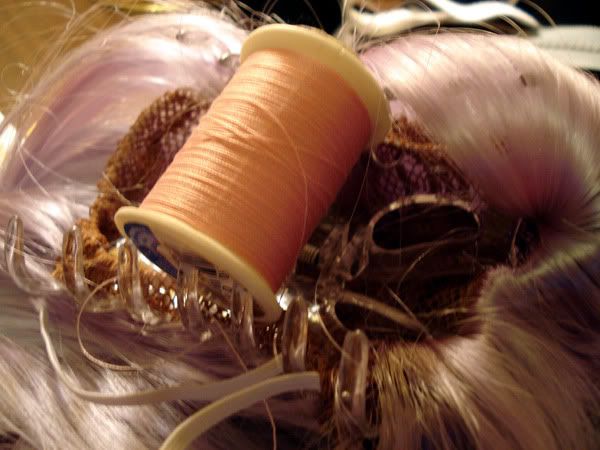 it's kind of hard to tie something with one hand, so I shoved a handily sized object from my desk (spool of thread) in to keep the jaws open while tying the knot.
yay it is tied! you could probably sew it or something for extra security.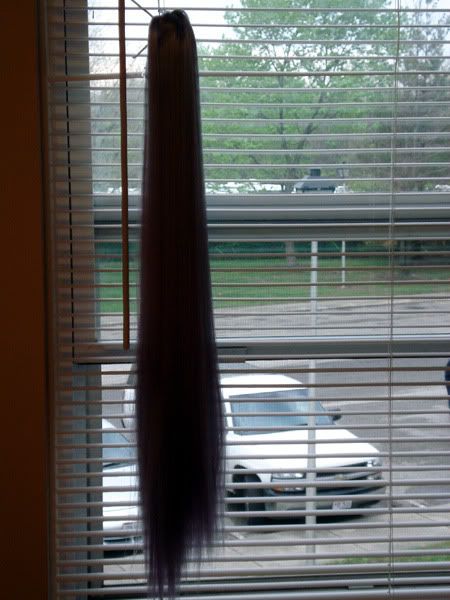 feel free to clip it to wherever you like~~
here's some other random pictures of the wig, since I'm too lazy to make a separate post.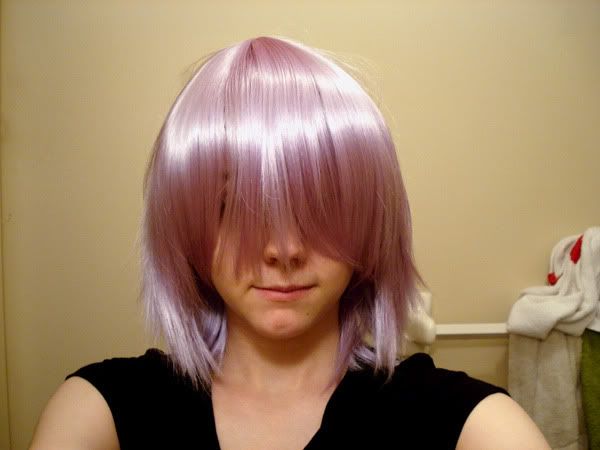 base wig pre-bangs cutting. I feel a little overgrown.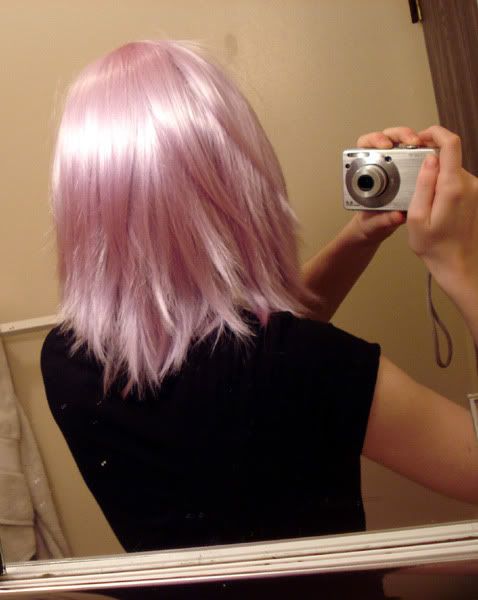 back of the wig~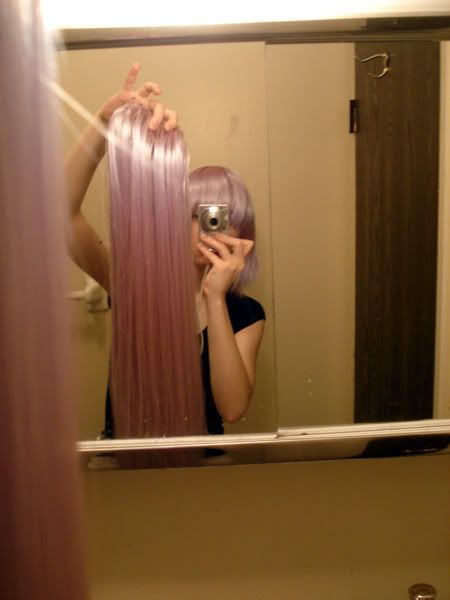 holding one of the clipons horizontally so you can see the volume.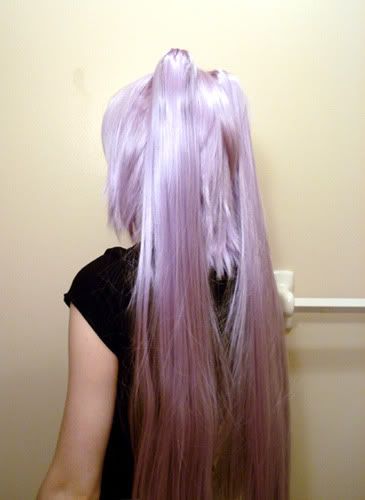 from the back. ponytails are really long and go down to my butt.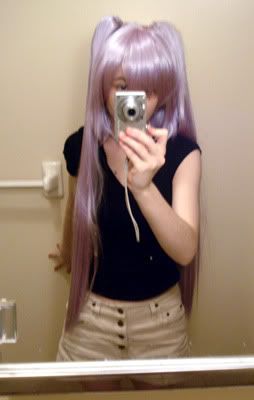 from the front. I had to stand on my tiptoes to get the bottom part in the mirror (hence the strange hand placement).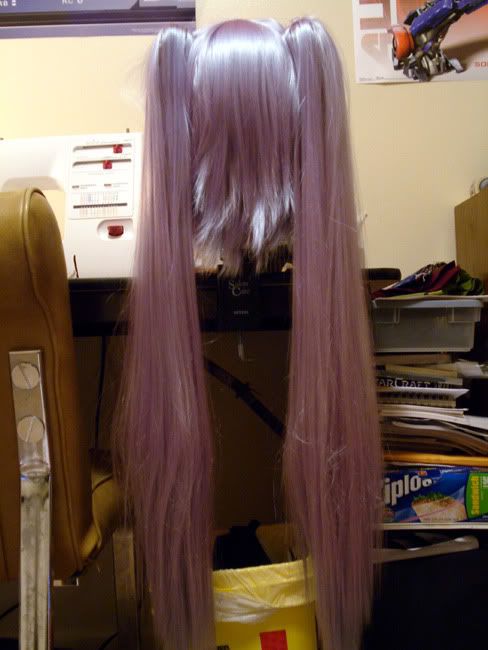 back of wig.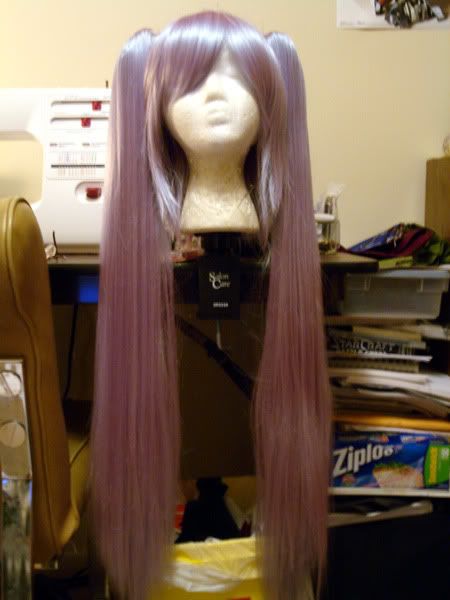 front~
I think I might actually take out both clipons and put tinier clips in, since this version of celica has strange ponytail cover things that go over/under it....and I still need to cut the bangs back/style it a little more...but you get the general idea. I think I really like ponytail wigs, they're super-cute feeling ;_;
Current Mood:
determined